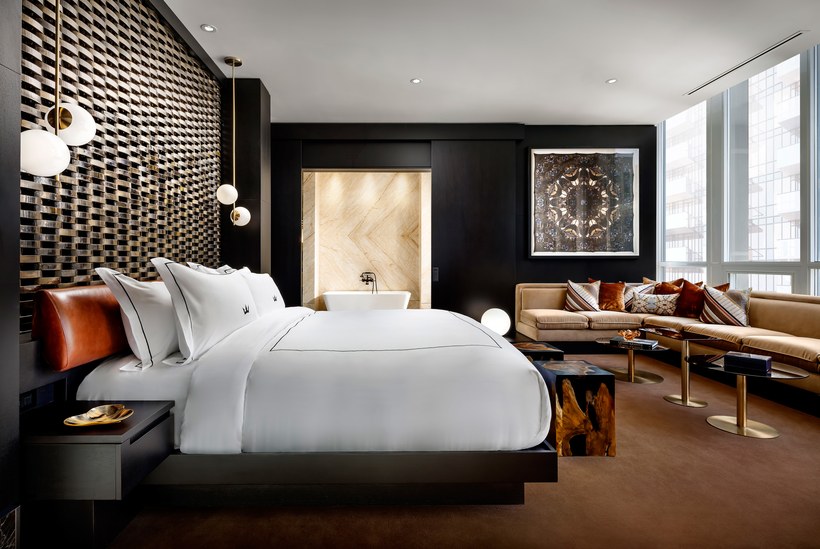 10 Aug

15 BEST HOTELS IN TORONTO

As the birthplace of legendary hospitality brands like Four Seasons and Fairmont, Canada's hotel game is strong—particularly in the cosmopolitan Toronto. Here, factors such as the booming media, film, and corporate industries, strong foodie culture, excellent museums, and wealth of upscale design and retail offerings combine to create a tourism landscape that demands a healthy hotel scene. As a result, you can check in to five-star options from international names, independent hotels that focus on art and design, European-style historic grande dames, and (as of this writing) the only Kimpton and St.Regis outposts in Canada. Read on for our picks for where to stay in Toronto, with options for everyone.

Thanks to a $40 million renovation, Toronto's first luxury hotel also feels like one of its newest. Originally built in 1903, the King Edward has hosted all manner of boldface names in its convenient downtown location, which is located close to the financial and entertainment districts, and attractions like the Eaton Centre and St. Lawrence Farmers Market. Past the elegant brick exterior, a re-done lobby has bold-colored, comfy seating, light-wood paneling, a fireplace, and quirky touches like towering sculptures of chess pieces. While wingback chairs, tufted leather headboards, deep red accent walls, and throw pillows emblazoned with crowns all nod to the hotel's regal name and deep heritage, the 301 newly redone rooms are now fully outfitted with modern touches like HDTVs, iPod docking stations, Keurig coffee machines, work desks, and laptop-size safes. Premium linens top the king-size beds; bathrooms have showers or soaking tubs. Partake in Torontonian history—without sacrificing modern creature comforts—at this renovated grande dame.

The Ritz-Carlton's distinctive, multi-level glass façade is easy to spot amid the art centers, sports arenas, stores, and restaurants of the surrounding Entertainment and Financial districts. A strikingly contemporary exterior hints at what's inside: a modern twist on the luxury hotel brand's classic style, with sleek décor accented by more than 400 pieces of Canadian art. Standout views of the CN Tower and the Toronto islands add to the sanctuary-like vibe. The Ritz-Carlton's beautiful rooms, sweeping views, top-notch food and drink, ample wellness amenities, and personalized service can't be beat.

Toronto is the hometown of the Four Seasons brand, so it was especially important that the location here represent the very best of the five-star name. Built in 2012 to replace the somewhat outdated 1960s original, this 55-story tower in the chic Yorkville neighborhood nails the concept of discreet luxury. The lobby is separated into small, lounge-like spaces, including a reception desk that's tucked away in an alcove under a stunning sculpture of falling flowers. Enter via the quiet rear portico (which also leads to a separate residential tower) and you can make it to the elevators pretty much undetected.

The brainchild of hospitality impresario Charles Khabouth, the Bisha is luxurious in its own contemporary way. Although it's managed by Loews, the hotel doesn't shy away from pushing a few boundaries; case in point, the fleet of suites envisioned by rocker (and designer) Lenny Kravitz. But before you get up to those hideaways, there's a warren of bold, decadent, and highly Instagram-worthy public spaces to enjoy, from the sexy lobby—all black marble and draped velvet—to the areas adorned with pieces from the hotel's 3,000-piece collection, which includes a fair number of Warhol prints.

With its buzzing rooftop, sleek crowd, and location in King West Village—an area of historic factories now considered one of Canada's capitals of cool—the Thompson is one of Toronto's year-round hotspots. A bold, contemporary style pervades the property, with industrial accents and loud pops of color creating a vibrant backdrop for the action. The vibe is very much urban resort, and it's a one-stop hub for all your entertainment needs.

The Adelaide is one of the best hotels in the city—even while it becomes the first St. Regis in Canada, a transformation slated to take place in late 2018. As part of the re-branding, there will be a redesigned lobby and adjacent lounge, a new 31st-floor restaurant with views of Downtown and Lake Ontario, new and refreshed suites, and signature St. Regis elements like butler service in all of the rooms. What won't change drastically is the overall atmosphere: muted sophistication, luxe décor, extra-large rooms, and spectacular views.

Fitting right into its location in the vibrant Queen Street West neighborhood, The Drake, which opened in 2004, has become a hub of Toronto art, design, and food. You'll feel the energy the moment you walk into the former apartment building, where original granite floors, exposed brick, and other historical touches live alongside vivid murals, green leather seating, vintage stereos, and pieces from a rotating art collection. There's always something happening here, from DJs on the rooftop to live bands at Drake Underground, the hotel's performance space.

Relaunched in 2018 as a 113-room hotel, and boasting what's now a great location—close to upscale Yorkville, the Bloor Street museums, the Yonge Street shops, arts venues, and more—Anndore House has a dimly lit lobby with moody greens and purples, dark woods, and glam gold-framed art. Past the kitchen island–style reception desk—a nod to the residential vibe that's embedded into Anndore's name—lies a sexy bar bedecked in velvet and wood paneling. The serene, chic décor toes the line between industrial and retro: polished concrete floors, a palette of grays and blues, king-sized beds, cushy leather club chairs, large plasma TVs, and a bookshelf topped with LPs and an iPhone-compatible record player. Some rooms have skyline views; others look out onto a courtyard. Spacious bathrooms have rainfall showers and CO Bigelow products.

Hotel X took Toronto's hospitality offerings to another level when it opened in 2018. Crafted as an urban oasis, the property is set in the Exhibition Place complex along the Downtown waterfront; it's a short drive from the Entertainment and Financial districts and the Harbour, and so close to Billy Bishop airport you could walk to the pedestrian ferry that leads to the terminal—that is, if the hotel didn't already offer complimentary transport there (and to Union Station). Packed with amenities—including over-the-top fitness facilities and a killer rooftop bar—the hotel offers something for every taste.

Stradling the historic Riverside and Leslieville neighborhoods in the East End, this charming boutique hotel occupies a 1891 Romanesque Revival landmark. The building counts the iconic (and notorious) Jilly's Strip Club as a former tenant—it's where, legend has it, a live tiger once shared the stage with the dancers. Today, that decadent past lives on in the form of sumptuous furnishings and materials, custom wallpaper that replicates the one found under more than a century of layers, and an art installation made from the original fire escape.

The Fairmont Royal YorkThe Royal York has been open since 1929 and recently underwent a renovation to usher it into its second century. Built on the site of an even older hotel (from the 1850s), the landmark occupies a full block in the Financial District, and is located across the street from Union Station and close to sites like the CN Tower and Rogers Stadium. Past a majestic façade that stretches up to a central tower, the vast, bustling lobby is currently undergoing a renovation that will refresh the materials and décor, but keep the historic feel—and placing a grand new clock in the lobby, as a nod to the famous lobby meeting point—intact. The revamp is slated to be finished in 2019.

For discreet luxury that makes you feel like a member of a private club, few spots top The Hazelton. The leafy, boutique-lined streets of the upscale Yorkville neighborhood provide the natural backdrop for this plush boutique hotel, which is marked by a brick-and-white façade and rounded entrance. Inside, a contemporary lobby is bedecked in polished metals, ostrich leather, and amber lighting. And thanks to their ample square footage (575 square feet and up) and nine-foot ceilings, the 62 rooms and 15 suites feel like apartments.

Set in a sweet spot between trendy Yorkville and the funky Annex, right near the University of Toronto campus and short walk from several top museums, a former Holiday Inn now houses the only Kimpton hotel in Canada. Not that you can see any evidence of the previous tenant; thanks to an extensive overhaul of the existing footprint, the property now features dark woods, rich textures, and mid-century-inspired furnishings. There are also lots creative touches and works by local artists, including the giant exterior owl mural. The 188 rooms are chic, with muted colors, sleek brass accents, quirky artwork, great beds dressed in Frette linens, and stylish furniture custom-designed by Toronto-based Mason Studio and crafted by local artisans. Kimpton's new restaurant has managed to keep some of the most beloved elements of its Holiday Inn predecessor, including its approachable neighborhood vibe and its popular karaoke nights. The bellhops and door staff are always quick to help you out of a car or point you toward a great neighborhood restaurant.

In 2012, Hong Kong–based Shangri-La opened a Toronto location in a newly built tower in the heart of Downtown, not far from the Theater District, a number of corporate HQs, and the main hub for the city's international film festival. Past a dramatic steel outdoor sculpture by Chinese artist Zhang Huan is a chic, contemporary lobby adorned with four large-scale Chinese calligraphy paintings, a Fazioli piano (featuring lyrics by Canadian-born singer-songwriter Joni Mitchell carved into its lid), and cushy leather seating surrounding a modern dual-sided fireplace. Shangri-La's high standard of service is in full effect here. Rooms feature intuitive technology (and handy bedside panels), as well as iPads loaded with hotel info and room service menus; you can also contact housekeeping, the bell desk, or the concierge via the tablet. A 42-seat screening room is popular with the film crowd. On the third-floor Garden Terrace, the recently installed B Wall is where 50,000 bees help generate honey for the hotel's culinary team. On the fifth floor, a 9,000-square-foot wellness facility includes a 24/7 gym with Technogym equipment, a group-fitness studio, a 64-foot pool with a skylight, and a Caudalie spa. Afternoon tea here is also a must; it's available daily (just be sure to make a reservation) and comes with your choice of more than 68 blends from around the world, each presented in an antique or contemporary Chinese teapot.